Dr. Sara Logan
Dr. Logan is a native of Colorado. From 1997 to 2001 she attended Colorado State University in Ft. Collins, CO and received her BS in Business Administration with an emphasis on Pre-Dentistry. She attended dental school at the University of Colorado Health Sciences Center, Denver, CO and obtained her degree of Doctor of Dental Surgery in 2005.
Following her graduation in 2005, Dr. Logan worked at the Moses Lake Community Health Center in Washington state but after 3 years Dr. Logan felt it was time to come back home… to Colorado.
"It is nice to see other beautiful places in this country, but I am proud to call Castle Rock my home."
During her time working at the Moses Lake Community Health Center, Dr. Logan provided dental treatment to patients of all ages and conditions.
"It was a rewarding experience not only because I had the opportunity to work on complex dental cases but it also allowed me to better understand their concerns, fears, and help the patients overcome them."
Dr. Logan's professional memberships include the American Dental Association, Academy of General Dentistry, and The Colorado Dental Association, and the Metropolitan Denver Dental Society.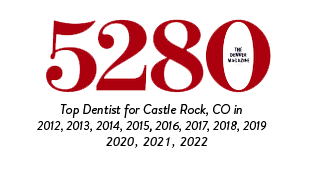 Dr. Logan was also chosen as one of 5280 Magazine's Top Dentist for Castle Rock, CO in 2012, 2013, 2014, 2015, 2016, 2017, 2018, and 2019.
Past memberships include The Grant County Dental Society, WA Dental Association, The American Student Dental Association, The Entrepreneurship Club and the Business College Council.